Addition by subtraction. Sounds nice right? The concept that you can actually gain more with having less than you had before. Usually this pertains to companies and employee attrition, turnover and how it coincides with team chemistry. It is especially prevalent in sports – teams justify the release of a player or trade by implementing this philosophy. It happened in 2012, when the release of a future Hall of Fame QB in Peyton Manning was viewed as a "necessary evil" because "rather than investing roughly $50 million into a position where only one player can play at a time, the Colts had the opportunity to go out and add the players they need to help resurrect the franchise" (O'Donnell, BleacherReport.com). Again, addition by subtraction – and a justification to the move by the organization.
Fast forward to present day. When the defending Super Bowl champs Seattle Seahawks made the trade for Percy Harvin in 2013, giving up first, third, and seventh round draft picks for the explosive playmaker in Harvin, all was forgotten when he ran back a kick return for a touchdown after halftime in the Super Bowl this past season. The "price" that was paid seemed worth it, even after missing the majority of the 2013 season and playing his first full game on the grandest stage- all seemed well in the Emerald City.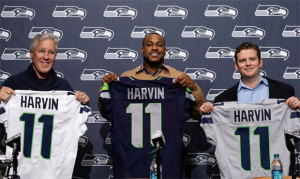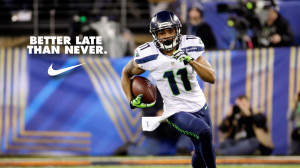 Now, just seven weeks into the 2014 season, all the "hype" behind what Harvin could do for the Seahawks on a long term basis was quickly eradicated when the team traded him for a mid round pick.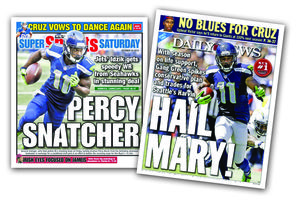 On the surface, this seemed like the classic "selling a cow for magic beans" type of deal. However, the team quickly justified it's decision by going back to the "doing what's best of the team" mantra. Nine months ago this move would've never seemed imaginable when Percy was trotting into the endzone on his touchdown score in the Super Bowl. Now, we realize the business that is the NFL. We come to grips with the reality on the whole "hero to zero" philosophy that is always apparent in business. Most importantly, we accept that these things happen. You work for a company for over a decade, then one day they do layoffs and you are one of the first to go. An organization promotes you one minute and the next you find yourself in the unemployment line. It's the harsh truth that is corporate America. The NFL is no different. Emotionless. At yesterday's press conference, Head Coach Pete Carroll was asked if he had any further thoughts regarding the Harvin exodus. Simply put, Carroll responded, ""We already have made that move…It doesn't feel any different today. We're moving on" (Florio, ProFootballTalk.com). Whether you nip things in the butt or just want to pretend something didn't happen, we all have our ways of dealing with situations and moving past things. The best way to turn the other cheek is to not look in the rear view mirror, even if it's dazzled with fond memories or nostalgia. A smile with a response, "He's a Jet" and leaving things at that will let people know where the line in the sand is drawn, and the jettisoned approach to letting things go and shifting gears within an organization is what needs to happen to move on. After all, isn't that what we need to do when things don't work out, move on? Regardless of details or not having all the answers, that's how you market your communication to your employees and fans, you simply wish people "the best in their future endeavors," "thank them for their time," and say "we are doing what's best for the team and organization." Addition by subtraction- you lose one piece but somehow the other pieces get stronger. After all, regardless of who's on board, the ship still sails and the train keeps running right? Not personal, just business…
Florio, M. (2014, October 22). Pete Carroll has nothing more to say about Percy Harvin. ProFootballTalk. Retrieved October 23, 2014, from http://profootballtalk.nbcsports.com/2014/10/22/pete-carroll-has-nothing-more-to-say-about-percy-harvin/
O'Donnell, W. (2012, March 6). Why the Colts Made the Right Call on Peyton.Bleacher Report. Retrieved October 23, 2014, from http://bleacherreport.com/articles/1052398-peyton-manning-released-colts-wisely-protect-future-by-deciding-to-cut-qb