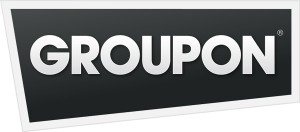 Back in January we reported on Groupon's group buying system (read our original post).  Now, the coupon giant is looking to expand even more.  The company is set to launch its new service, Groupon Now, in less than a month.  The service is accessible via a smartphone application that monitors your location and the day of time.  Based on this information, Groupon Now delivers time-sensitive deals at a number of local venues including eateries and mom and pop shops.
The traditional Groupon "deal-of-the-day" has been extremely successful.  Not only has it spawned a number of knock offs, but it has also given Groupon the title of the fastest growing company ever.  In 2009 the company had 120 employees and offered deals in 30 cities.  Today, the company has to 5,900 employees and offers more than 900 deals in 550 markets.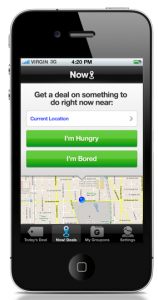 Despite Groupon's success, the "deal-of-the-day" is a one-time "have coupon will use" model.  The new Groupon Now taps into the enormous and fluid market of consumer foot traffic.  The Group Now app will work by providing consumers two options—either "I'm hungry" or "I'm bored."  Clicking either button will reveal time and location-specific deals.
The new model allows restaurants to offer deals during specific days and hours that are generally slow, attracting businesses that saw little advantage to the traditional Groupon coupon system.  The main benefit for businesses is greater efficiency and cost savings.  Groupon Now allows merchants to cut down on perishable waste—like food ingredients, labor hours and anything else that has to be disposed of if not used immediately.  Groupon Now seeks to eliminate 10 percent of parishability for small businesses, which could equate to huge savings.
Some small business owners, however, are worried about the value of their product dropping due to Groupon Now deals.  While these coupons will certainly get customers in the door, they may discourage customers from ever wanting to pay full price.  For these businesses the one-time coupon model is more appropriate.  One restaurant owner in Raleigh, N.C. said "There's no reason for customers to come in all the time if they can always get a discount.  That's the reason we like Groupon; it's only a one-time deal."
So, while Groupon Now offers new capabilities for consumers and an innovative marketing approach for merchants, its benefit for small businesses is arguably questionable.  Will the new service boost the awareness and efficiency of small businesses or will it devalue their products?
Sources:
Bloomberg Businessweek: http://www.businessweek.com/magazine/content/11_13/b4221070014682.htm
Mashable: http://mashable.com/2011/03/17/groupon-now/
Reuters: http://www.reuters.com/article/2011/03/22/idUS221071843620110322