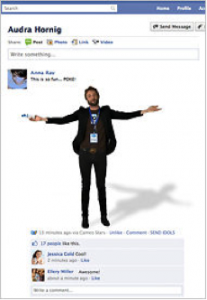 Facebook Join American idol to Build the Brand through Viral Video Sharing.
Having a large number of Facebook followers certainly demonstrates the popularity of " American Idol", but that is not where the story ends. Beginning Friday, Facebook encourage users to send each other video messages such as birthday greetings or a poke recorded by the 10 finalists on " American Idol". The videos are supported by an application called Cameo Stars and will charge $ 1 to the users.
The aim of the project is to increase the equity of " American Idol" brand, and build up the brand; meanwhile, to develop compelling products that they can sell continuously. According to the co-producer of American Idol, the video is customized to the users, as the celebrity is walking toward them and talking toward the camera, and it is being delivered to the users on their own page.
The application Cameo Stars was designed to target the cultural obsession with celebrities and the exploding market for virtual goods. The company previously pay commission to celebrities, and now they begin a partnership approach.
The ideal development for the partnership would be the involvement with a third party advertiser to finance the videos, so Facebook users can send them at no cost — a brand-funded model. For advertisers, Cameo Stars position content from brands by using a soft advertising strategy, which also promote viral marketing. This is especially strategic as a lot of Facebook users are becoming immune to what is in the right margin and are mentally blocking out ads.
Would Facebook users be interested in sending out celebrity greetings by paying $1?  Would companies advertise on these types of videos, given that fact that it is not a mainstream consumer Facebook app? I would love to hear your opinions.
Reference:
Newman, A. (2011) "Birthday Greetings From an 'Idol' Contestant to Build the Brand", the New York Times, [Accessed on 03/23/2011] http://www.nytimes.com/2011/03/24/business/media/24adco.html?ref=technology