In recent years, consumers have intensified the position of social media platforms in advertisement campaigns. As a result, Television networks have begun to ardently incorporate social media as a means to integrate consumers into the media mix. Think about the last time you watched an awards show or the last time you watched an interactive show like "The Voice" on Television. Consumer interaction has become a driving force behind the show. Has it not?
Now let's take this further. Big award shows like MTV's VMA's (as an example) have opted to focus on real-time marketing. The show's target audience which is predominantly comprised of millennials has a larger understanding of social media platforms and thus will be the first group to participate in on-line discussions regarding real-time events. Thus, advertisers now desire to get the ball rolling and become a part of the interaction. MTV successfully beefed up their advertising machine by promoting social currency which is, "something valuable in the moment, that they (consumer) can share while watching live shows on a TV set with a tablet or mobile phone next to them" (Elliott,par. 10).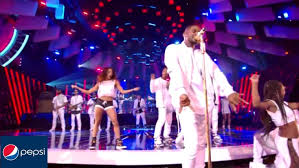 For example, Pepsi in partnership with performing artist Usher and MTV, created a hashtag #UsherNOW to promote the show and their product during Usher's performance at the VMA's. Concurrently, other advertisers did the same with different hashtags promoting their products and the show. Do you think it is always a good idea to use real time events for advertisement purposes? How do you feel about hashtags being used as a gateway in prompting social media discussion of products?
Elliott, S. (Aug. 20, 2014). Creating ads during the MTV Video Music Awards. NY Times. Retrieved from: http://www.nytimes.com/2014/08/21/business/media/creating-ads-during-the-mtv-video-music-awards.html?_r=1.