"It all started 50ish years ago with a simple shift dress in Palm Beach, Florida" (Herald Online, 2013). Well, not quite…
It actually started 80ish years ago when Lillian McKim was born in Farmington, Connecticut. And what a beginning it was! Lilly attended school with future first lady, Jacqueline Bouvier (a friendship that would last for years), and married Peter Pulitzer, grandson of newspaper mogul Joseph Pulitzer (Newcomb, 2013).
On the advice of doctors trying to cure Lilly of severe depression after moving with her family to Palm Beach, Florida (put more bluntly, they basically told her that she needed to find something to do), she began juicing oranges from the family's groves and selling the juice at a roadside stand. Finding she was always covered in juice at the end of the day, Pulitzer designed herself a shift dress to match the juice stains. After receiving many compliments on her creation, she began selling a few dresses at her juice stand, and a fashion empire was born. The year was 1959.
So with no business sense or fashion design experience whatsoever, Lilly Pulitzer entered the fashion business full time. Of course, it didn't hurt that she had come from and married money. Or that Jackie Kennedy was photographed wearing one of her dresses…made from kitchen curtain material! After that, The Lilly took off and a fashion icon was born (Fashion I.Q., 2013).
Part of Pulitzer's success can be attributed to being in the right place at the right time. The time was the rules-busting, turbulent '60s, a decade perfectly suited to Lilly's rebellious bohemian nature. In fact, Lilly and her husband were pioneering an alternative lifestyle that was more casual and organic than the rest of high society. Lilly, herself, describes her success thus: "It was the time, the place and the name" (cited in Fashion I.Q., 2013).
The Lilly Pulitzer line is still alive and well today, although its founder shut down the company in 1984. A decade later, the line was revived when its founder sold the license to Oxford Industries, a publicly traded company, in 1993, remaining on as a consultant. The company continues to feature the bright colors and prints that Lilly loved, introducing "the wonderful world of Lilly to new markets" (Lilly Pulitzer president James Bradbeer, Jr., cited in Herald Online, 2013).
Lilly Pulitzer passed away peacefully on April 7, 2013, at her home in Palm Beach, Florida. She was 81 years old. But thanks to the continued Lilly Pulitzer revival, the free-spirited socialite's belief that "it's always summer somewhere" lives on (Newcomb, 2013).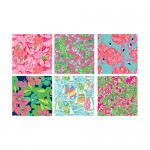 References:
Business Wire (2013, April 3). Lilly Pulitzer opens 20th store in The Shops at Riverside. Herald Online. Retrieved from http://www.heraldonline.com/2013/04/03/4744482/lilly-pulitzer-opens-20th-store.html
Fashion I.Q. (2013, April 4). Town & Country's Kathryn Livingston on Lilly Pulitzer. Sarasota Magazine. Retrieved from http://sarasotamagazine.com/fashion-iq/2013/04/04/kathryn-livingston-on-lilly/
Newcomb, A (2013, April 7). Lilly Pulitzer: Fashion designer, socialite dies at 81. ABC News. Retrieved from http://abcnews.go.com/US/lilly-pulitzer-fashion-designer-socialite-dies-81/story?id=18901439#.UWJkZknn-M8