Microsoft launched a massive marketing campaign in October around Windows 8, Surface, and the Windows Phone. Since then consumers seem to be saturated with Microsoft advertisement with television, print, transit, billboards, online, and event sponsorships (O'Reilly, 2012). According to Forbes, Microsoft's global marketing campaign around Windows 8 is estimated to cost $1.5 to $1.8 Billion (Einstein, 2012). The campaign has been a breath of fresh air for Microsoft with its use of upbeat music, vibrant colors, creative placement, and hot celebrities.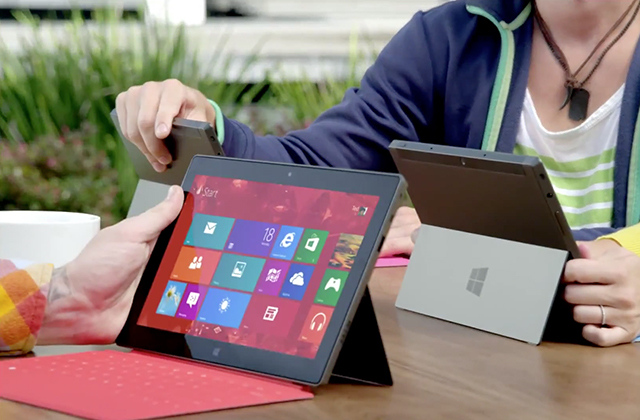 During this same timeline Microsoft has promoted Bing, the Microsoft search engine and rival to Google. In hopes to enlighten internet search users, Microsoft launched "Scroogled" a blatant attack against Google and their results criteria. These ads have a far different feel from the fun "Windows Reimagined" campaign that seemingly surrounds us. As I drove from San Francisco to Mountain View this week I encountered a "Scroogled" ad on a digital billboard while passing through Palo Alto. With the bright red flashing text and negative tone I couldn't help but feel slightly negative towards Microsoft. Maybe it was the abrasive flashing while I was driving or the obvious attack strategy on another tech company, something didn't sit right.
This week Microsoft also launched Outlook.com and revived the anti-Google campaign with new messaging again Gmail. Microsoft has taken a slightly less abrasive approach with their Valentines cartoon commercial but the political like strategy is still present.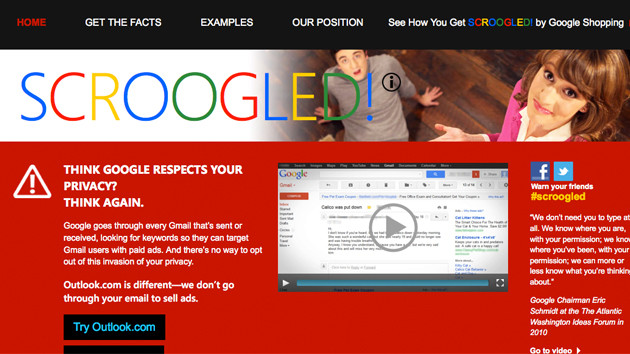 Scroogled TV Commercials
"Negative ads, as much as politicians might decry them, can have a devastating effect when deployed in a tight race, like last year's Iowa Republican primary. Perhaps with this in mind, Microsoft hired ex-Clintonite Mark Penn, who pioneered the practice of micro-targeting ads based on consumer behavior, to work his black magic on Google. Penn, however, seems to not have recognized that there are some fundamental differences between consumer product battles and political campaigns, and mistaking one for the other can render them almost completely ineffective" (Depillis, 2013).
Microsoft has a great things going with the strategy and direction of their "Windows Reimagined" campaign. It's debatable whether the Google attack marketing will convert users and generate loyalty to Microsoft products. I can't help but feel this is not a great move for their integrated strategy or a direction I'd support for tech marketing.
-Erin Spaulding, 514 (A) Integrated Marketing, USC Annenberg
(*Posted with Sheila's account)
Einstein, D. (2012, October 11). Microsoft betting big on cloud with windows 8 and tablets. Forbes. Retrieved from http://www.forbes.com/sites/netapp/2012/10/11/windows-8-release-date-tablet-microsoft-cloud/
Depillis, L. (2013, February 15). Microsoft's Mark Penn mistake the tech giant is treating Google like a political rival. New Republic. Retrieved from http://www.newrepublic.com/article/112421/microsofts-scroogle-ads-and-mark-penn
O'Reilly, L. (2012, October 24). Microsoft unveils global windows 8 campaign. Marketing Week. Retrieved from http://www.marketingweek.co.uk/news/microsoft-unveils-global-windows-8-campaign/4004443.article