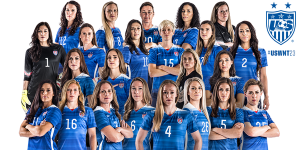 The 5-2 win for the U.S. Women's National Team (USWNT) over Japan in last months FIFA World Cup make them the first women's team to win three World Cup titles and mark's yet another great achievement for the growth of women's soccer. Despite a fifty percent pay raise from the last World Cup, the women's payout for the 2015 World Cup was a mere $15 million, compared to the men's $576 million payout in last years World Cup (Shabad, 2015). According to John Ourand of Sports Business Journal, this year's women's World Cup final between the USA and Japan had record high ratings averaging 25.4 million viewers on FOX (Pilon, 2015). This proved to be the highest American viewed soccer game ever and also had higher TV ratings than any single NBA finals game or NHL Stanley Cup match during the same period (Chappell, 2015; Collett, 2015). This shows a clear potential for the American women to generate revenue and earn a higher pay than the $2 million received for winning the World Cup. It is clear that FIFA leadership is behind modern day culture. Actions such as FIFA President Sepp Blatter having the Women's World Cup played on turf rather than grass to save money, and voicing opinions that women should play in "tighter shorts and skimpier outfits" is disrespectful and out of touch with modern day society standards in the U.S. For good reason much of this has lead to the highly publicized controversy of the FIFA pay gap between the men and women's World Cup. But I'm not here to discuss how change is needed, I think we're all in agreements about that and the fact of the matter is until there is new leadership FIFA will continue its ways. However what can change is the endorsements deal that the American women can receive right here in our home country.
Its clear that these girls can ball, Carli Lloyd's hat trick and nailing a 50-yard goal in the final proves that, Visa and Nike have recognized this and recently inked deals with the star player. Alex Morgan and Abby Wambach have also signed deals with brands such as Coca-Cola and Nationwide but that still leaves 20+ other women to be recognized as well. Advertisers love to associate their products with winners and those who have the spotlight on them within the market place; right now that is women's soccer specifically the USWNT. There's never been a better time for women's soccer to capitalize on endorsement deals given their recent success and the fact that the Summer Olympics are less than a year away. Social engagement for the top women's players is also high across Twitter, Instagram, and Facebook, combined followers on each platform are: Alex Morgan 4,979,329, Hope Solo 2,813,086, Abby Wambach 1,216,134, Carli Lloyd 878,917, and Megan Rapinoe 877,122.
So how do these women sustain a brand value? Some would argue that many of these women don't have a compelling story to tell. Highly doubt it, but if so for brands I would challenge them to create a compelling story. There is a clear economic opportunity and one could even argue a corporate social responsibility opportunity to do what FIFA hasn't and get these women paid. A win-win for both sides. So rather than question how does the women team use this momentum to sustain branding efforts as a brand manager I would ask my self how do I capitalize on the opportunity. It will be interesting what players make out with endorsements over the next year, if FIFA wont pay them I think there is a great opportunity for U.S. brands to.
References
Chappell, B. (2015, July 6). U.S. Women Shatter TV Ratings Record For Soccer With World Cup Win. Retrieved from http://www.npr.org/sections/thetwo-way/2015/07/06/420514899/what-people-are-saying-about-the-u-s-women-s-world-cup-win
Favaritio, J. (2015, July 3) Women's World Cup Success; What's Next? Retrieved from http://joefavorito.com/2015/07/07/womens-world-cup-success-whats-next/
Favaritio, J. (2015, July 11). Busy Summer For Soccer Biz? Kickin It With Charlie Stillitano…Retrieved from http://joefavorito.com/2015/07/11/busy-summer-for-soccer-biz-kickin-it-with-charlie-stillitano/
Shabad, R. (2015, July 6). Lawmaker: US women paid millions less than men for World Cup. Retrieved from http://thehill.com/policy/finance/246959-lawmaker-womens-world-cup-winners-paid-four-times-less-than-men