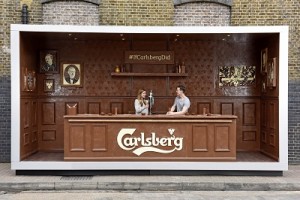 Easter may be known for chocolates and egg hunts but it is also a time to celebrate with beer (Reynolds, 2016). And what a sweet way to promote beer on Easter week by matching it with chocolate! Carlsberg unveiled the world's first pop-up chocolate bar at the Truman Brewery in London last Wednesday, as part of its #IfCarlsbergDid campaign (Byers, 2016). Built with a half ton of chocolate, everything from bar stools to wallpaper to cups to dartboard was made of chocolate (Reynolds, 2016).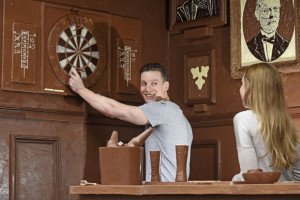 The event, dubbed "If Carlsberg Did Chocolate Bars," aimed to leverage on user-generated content and Internet memes (Reynolds, 2016). It provided a truly memorable experience and at the same time extended its reach globally via social media. In today's digital age, it was a powerful way of gaining word-of-mouth marketing.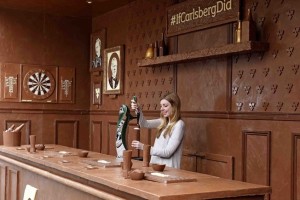 "If Carlsberg Did Chocolate Bars" was a great example of brand integration using social, digital, print and event marketing. It allowed consumers to have a unique experience while interacting with the brand. It also engaged younger audiences who do not necessarily prefer the traditional channels (Gwynn, 2016).
With three months to build and only five hours to experience (Arthur, 2016), one may ask, was it worth the investment? It appears that this event was all about the people they reached in real-time as well as the free advertising they got out of creating an attention-grabbing event.
Do you think "If Carlsberg Did Chocolate Bars" was successful? How do you measure a successful pop-up event?
Happy Easter!
References:
Arthur, R. (2016, March 24). If Carlsberg did chocolate bars. Beverage Daily. Retrieved from http://www.beveragedaily.com/Manufacturers/If-Carlsberg-did-chocolate-bars
Byers, R. (2016, March 23). The Carlsberg chocolate bar has opened its doors in Shoreditch. Trendhunter Marketing. Retrieved from http://www.trendhunter.com/trends/carlsberg-chocolate-bar
Carlsberg UK. (2016, March 24). If Carlsberg did chocolate bars [Video file]. Retrieved from https://youtu.be/Wx9wc5gbQpo
Gwynn, S. (2016, March 24). Carlsberg's Shoreditch chocolate bar aims to take the lager beyond football fans. Marketing. Retrieved from http://www.marketingmagazine.co.uk/article/1388829/carlsbergs-shoreditch-chocolate-bar-aims-lager-beyond-football-fans
Reynolds, A. (2016, March 23). Carlsberg reveals giant "chocolate bar" Easter stunt. PR Week. Retrieved from http://www.prweek.com/article/1388724/carlsberg-reveals-giant-chocolate-bar-easter-stunt