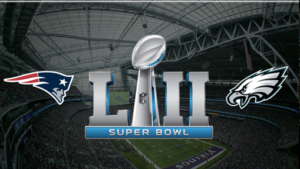 Image retrieved https://okdiario.com/img/2018/01/22/super-bowl-interior.jpg
Calling all football fans and marketing creatives alike. As preparations are underway for the big game this Sunday between the New England Patriots and the Philadelphia Eagles, Super Bowl fans everywhere will have plenty to look forward to. The anticipation as to which team walks away as the 2018 Super Bowl Champion is drawing national attention and is expected to draw an estimated 188.5 million viewers according to the annual survey released by the National Retail Federation and Prosper Insights and Analytics (National Retail Federation, 2018).
Who will it be this year? Will the Patriots pull off a predicted back-to-back championship? Or will the Eagles leverage their status as underdogs to pull off an upset?
Regardless of which team you are cheering for this Super Bowl Sunday, we can rest assured that as viewers are taking in the game, many will also be casting votes as to which brands deliver the most influential and talked about Super Bowl commercial for 2018. According to Dan Lovinger, NBC Sports Group executive VP of ad sales, "NBC is expected to generate over $1 billion in ad sales between the 30-second Super Bowl ads and the upcoming Winter Olympics" (Adweek, 2017).
Which ads deliver the biggest impact will be based on individual viewer preference. Below you will find a sneak peek at the ads to decide for yourself. The first two ads focus on global impact initiatives while the last ad focuses on supporting local small business.
Budweiser "Stand by You"  Budweiser has once again captured both the hearts and minds of consumers with its ad that is focused on the recent natural disasters from Florida's Hurricane Harvey to southern California's mudslides. The ad demonstrates how Budweiser has distributed 79 million cans of water to disaster relief in the past three decades (Adweek, 2017). Additionally, all of the people featured in the ad are employees of Budweiser's Georgia Brewery. #impactful  https://youtu.be/CxGUmtRLm5g
Stella Artois "Water Changes Lives" #GiveThemTimeBack Beer brand Stella Artois has partnered with actor Matt Damon to support the Water.org initiative which has set out to provide 3.5 million people with access to clean water by 2020. Consumers can purchase a limited-edition Stella Artois Chalice, which will provide five years of clean water per person in the developing world (Water.org, 2018). https://youtu.be/tcaNcJrhfTk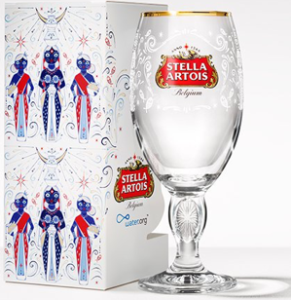 Image retrieved from https://water.org/media/images/Waterorg_Stella_Chalice-2RV.original.jpg
Groupon "Who Wouldn't"  Groupon revealed its return to Super Bowl prime time after its first failed attempt in 2011(Matyszczyk, 2018). John Wild, Groupon's head of marketing for North America states, "We've made incredible progress over the past few years on our mission to build the daily habit in local, delivering an amazing customer experience and growing the size and scale of our massive mobile marketplace — making now the right time for us to come back to television's biggest spectacle" (Matyszczyk, 2018). The ad features the new rising star and comedian Tiffany Haddish as she promotes the use of Groupon and support for small local business. https://youtu.be/GM1QDBvzm1Y
These are just a few of the many ads that viewers will experience this Super Bowl Sunday.
Which ads will have the greatest impact? Which ads will produce the most dialogue? And the question that will be on many viewer's minds will Philadelphia pull off an upset or will the Patriots add another Super Bowl title to their collection?
References
Adweek Staff (2017, December 10). Super Bowl LII Ad Tracker: All About the Big Game's 2018 Commercials. Retrieved from http://www.adweek.com/brand-marketing/super-bowl-lii-ad-tracker-all-about-the-big-games-2018-commercials/
Kay, A. (2018. January 21). Super Bowl 2018 Odds: Patriots Vs. Eagles Opening Betting Line And Expert Picks. Retrieved from https://www.forbes.com/sites/alexkay/2018/01/21/super-bowl-2018-odds-patriots-vs-eagles-opening-betting-line-and-expert-picks/#ee329cade1c2
Water.org (2018, January 27). Retrieved from https://water.org/stellaartois
Matyszczyk, C. (2018, January 25). In Super Bowl ad, Groupon declares it's saving your 'hood. Retrieved from https://www.cnet.com/news/groupon-ad-big-game/
Smith, A. (2018, January 25). Big Year for the Big Game: Consumers to Spend $15.3 Billion on 2018 Super Bowl. Retrieved from https://www.marketwatch.com/amp/story/guid/a4da2364-0477-4f58-bb2b-34ff0ed2dabd