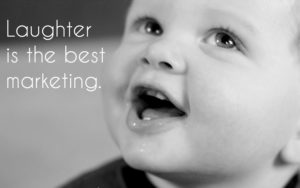 Most of us have heard the phrase "Laughter is the best medicine," and there's some truth behind the saying … even if a good orthopedic surgeon does come in handy every so often.
But humor can also be used to help an organization connect with an audience in a busy media environment. This can be seen in national advertising campaigns from Dos Equis' "Most Interesting Man in the World" to the anthropomorphic M&M's characters and many more.
However, humor can also be used to to draw attention to smaller campaigns. Pathfinder Films in Chattanooga, Tennessee, is a small video production company founded in 2015 that specializes in video production for small companies and nonprofits.
"One area that we've grown in [is the] area of doing comedic pieces," Pathfinder founder and CEO Leif Ramsey said in an interview with Nooga.com. "That was definitely pretty new for us and definitely an area we wanted to get into."
Pathfinder brought their comedic sense to an area not known for using comedy: the often-bland chamber of commerce video. Ramsey and his team developed a concept for the Chattanooga Chamber of Commerce to take a chance on using humor to sell the midsize Southeastern city to businesses looking to relocate.
To establish a unique marketing position for Chattanooga, the Pathfinder team highlighted the area's outdoor scenery and its unique distinction as the city with the fastest internet speeds in the United States thanks to the fiber optics system owned and operated by municipal utility EPB.
The result was the "Chattanooga, Literally Perfect" campaign featuring clueless announcer Mr. Perfect telling humorous stories of (made-up) entrepreneurs making the move to Chattanooga and loving it.
"What I love about this is that the Chamber and Pathfinder are essentially making fun of the city and its residents while promoting it at the same time," Nooga.com business reporter Chloé Morrison said. "The Literally Perfect videos capitalize on a truth, which is that business and government leaders love to highlight all the ways Chattanooga is better than other cities.
"People here, including myself, genuinely love the city and often can't stop talking about it, especially to newcomers. This campaign captures that perfectly. It's self-deprecating but does its job too."
The unique take on the chamber of commerce PSA worked, attracting viewer engagement online and stories in local and national news media. Pathfinder followed the initial campaign by inserting the memorable Mr. Perfect character in a musical spoof of the hit film "La La Land" called, you guessed it, "Cha Cha Land."
The result of taking a chance and using humor was a big success that helped Chattanooga differentiate itself from bigger cities and culminated with the Chattanooga Chamber of Commerce being named 2017 Chamber of the Year and winning a Grand Award for Communications Excellence from the Association of Chamber of Commerce Executives.
When developing a creative strategy for your client, don't forget that comedy can help your brand stand out in the crowd. A little humor, when used strategically, can go a long way.