When the curtain opened on the 85th Academy Awards, I had already begun drafting a blog post about a new marketing initiative by the Girl Scouts of USA, who this season introduced a "nutritional" cookie featuring NutriFusion vitamin spread. I was going to talk about the unique challenges — and rewards — of marketing a seasonal product and evaluate the organization's attempt to connect with today's health-conscious consumer.
But then two things happened. First, I searched the annals of Buy the Way and found that a former Annenberg student already wrote about the Girl Scouts. Her post offers a compelling analysis of the organization's centennial rebranding effort, which you can read here. Second, I saw a commercial during the Oscars that captured my imagination and convinced me to change tack at the last turn. If you still want to read about the Girl Scouts' new cookie, you can start here.
---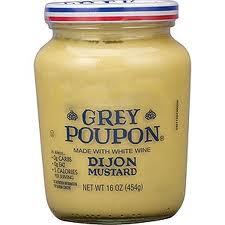 If you were old enough to watch television in the 1980s, you knew (and probably loved) Grey Poupon's "Pardon Me" ad campaign. Even if you came of age in the '90s, you likely became familiar with the mustard maker's famous TV spots through a long-lived series of parodies that kept cropping up in movies like Wayne's World  and television shows like Married… with Children. 
1985 Grey Poupon Commercial

Married with Children Clip featuring Grey Poupon Parody

The campaign was a huge success, becoming a pop culture phenomenon and making a funny-sounding French brand into a household name. According to the Los Angeles Times (Hallock, 2013), Grey Poupon saw unprecedented sales growth in markets where the campaign aired, facilitating Dijon mustard's transformation from an aspirational taste into an assimilated one ("Spreading," 2010).
Although Grey Poupon is still one of the top-performing mustards in America ("Spreading," 2010), this accolade has come to mean less and less as the condiment market has been flooded with specialty mustard products from competitors large and small. As the brand's market share has shrunk, so have its sales (Choi, 2013). Grey Poupon may also have suffered from neglect as " just one of many" Kraft brands. In fact, Kraft has not ordered a single commercial for the mustard since it acquired the brand through a merger with Nabisco in 2000 (Choi, 2013; Wahl, 2000).
That all changed tonight when a "throwback" commercial referencing the "Pardon Me" campaign of more than thirty years ago aired during the Academy Awards. The 30-second spot was billed as a "trailer" for a longer, two-minute version available online. If you didn't see it, take a look:
Grey Poupon Throwback Commercial


Grey Poupon's original "Pardon Me" campaign was created by agency Lowe Marschalk, which today operates under the name Lowe and Partners as a division of big-four agency Interbrand. But the last three decades have been volatile ones for the advertising industry, and Grey Poupon appears to have a new agency of record. Tonight's commercial is the brainchild of Crispin Porter + Bogusky. While not among the "big four," CP+B is a major player that recently garnered a lot of attention for its Super Bowl XLVII spots for JELL-O and Best Buy.
CP+B made a smart move by reintroducing Grey Poupon during the Academy Awards. The classy feel of Hollywood's biggest night suits the brand that was once associated with the posh, Rolls Royce set.  And while Kraft only plans to air the commercial once (Choi, 2013) —  understandable, considering the tremendous price of Oscars advertising —  CP+B has created an integrated marketing campaign that may keep the buzz alive long enough to make Kraft's investment worthwhile.
I saw a lot of Grey Poupon chatter on Twitter immediately following the commercial, and a Google search for "Grey Poupon" a few minutes later revealed that CP+B has taken advantage of paid advertising to steer traffic to the new campaign's website, asking Googlers, "Catch our ad during the ceremony?":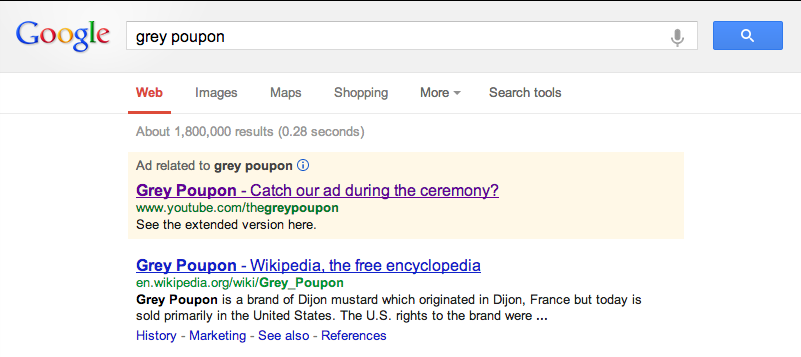 Do you think CP+B's approach will pay off? Has viral marketing created an environment where a single commercial spot is all it takes to kick off a brand rejuvenation? Let me know your thoughts.
References
Choi, Candace. (2013, February 19). Grey Poupon pins hope on ad during Oscars. USA Today. Retrieved from http://www.usatoday.com
Hallock, B. (2013, February 22). Oscars week: 'Pardon me' Grey Poupon ad brings back the '80s. Los Angeles Times. Retrieved from http://www.latimes.com
Spreading the love. (2010, October 7). Bloomberg Businessweek. Retrieved from http://www.businessweek.com
Wahl, M. (2000, June 26). Philip Morris reaches deal for Nabisco. Chicago Tribune. Retrieved from http://www.chicagotribune.com